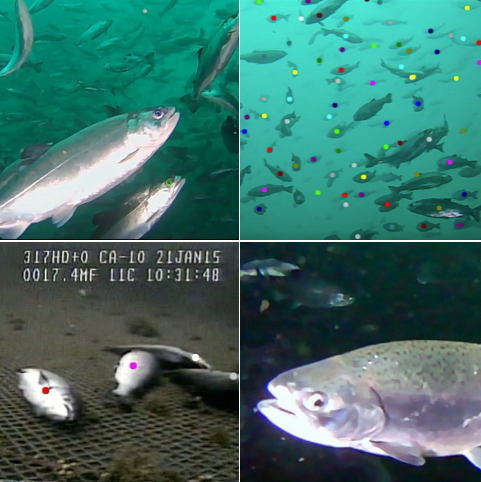 Measurement of daily fish mortality (bottom of the cage).
Dead fish is lying at the bottom of the cage. We detect each fish at each frame of the video. We time-trace each fish for the position in the cage and the counting. Colorful tracing lines (left) show relative position while tracing each dead fish for counting. The color of the tracing lines corresponds with the color of the marking on the fish (right)
Presence/detection of details on Salmon video
By tracing such a small and specific structure/feature on the foreground fishes on the video – like the fisheye, we demonstrated the ability to detect any other structures like a presence/detection of Salmon Lice's (Caligus) or other illnesses or deformations.
Counting and tracing each fish
We detect and subsequently trace the new fish. We also give an estimated number of fish in optically dense fish clusters!
This example demonstrates the power of detection and tracing in time moving fish in the cage! Our AI-based solution brings an efficient method to count fish in the fish tank daily!
Salmon spot Uniq patterns detection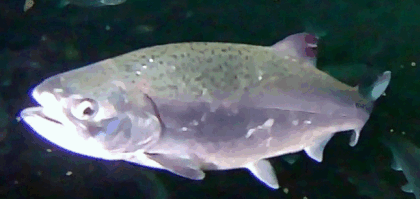 Analysing details on the selected fish; even in the deep and dark waters, KARMENstudio can distinguish the unique pattern of the spots on the salmon back, scale many details and estimate the biomass.